MultiDataViewer - The File Viewer
To view the content of a file, select "View File" from the File menu, or press the keyboard shortcut key F3 (the default if using the Commander-style setup).

The Default File Viewer in Multi Commander is MultiDataViewer. It is a file viewer that has some unique features.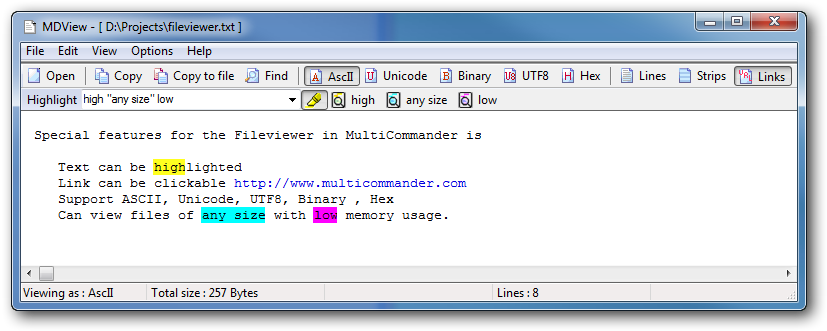 MultiDataViewer Features
MultiDataViewer can:
View files of any size, even if the file is several gigabytes, using very little memory
View files as ASCII / Unicode / UTF8 / Binary and Hex
Be extensively customized. Font / Color / Background / Gridlines / Strip and more can be changed using different profiles that are loaded for different files based on format or file type
Support syntax coloring
Support links. Links in the text are clickable, so you can click on the link and a browser will be opened for that location
Highlight all the words in different colors
AutoSelect an entire word when double clicking on it (It is possible to customize what special characters are allowed in a word)
Copy selections to the clipboard or save selections to a file
Support Drag & Drop. Drop a file on MultiDataViewer to view it
Provide MouseWheel Zoom: hold CTRL down when using the mouse wheel and it will increase / decrease font size
Queue files to view and Go to next/previous file with CTRL+ PAGEUP / PAGEDOWN
Auto-reload files if changed (very useful when viewing a live log file)