Multi Commander Internal Picture Viewer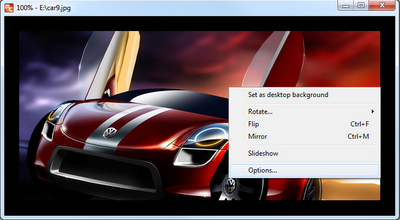 The Multi Commander Picture Viewer supports most common picture formats, such as jpg, png, gif, bmp, tiff, psd and many raw formats.
If the picture has an exif tag with rotation information it will auto-rotate the picture for you when it is viewed. You can also manually rotate and flip the picture if you wish. You can also re-save the picture after it has been rotated.
JPG pictures will be saved using lossless operations, so that the quality of the picture is not degraded.
It is also possible to set a picture as your desktop background, and if multiple files are viewed you can select slideshow mode and it will automatically load the next image every couple of seconds.
Fullscreen mode is supported by pressing F11, and you can also zoom the picture using the + / - keys or the mouse wheel.
Show Picture Information
EXIF and picture information can be shown above the picture.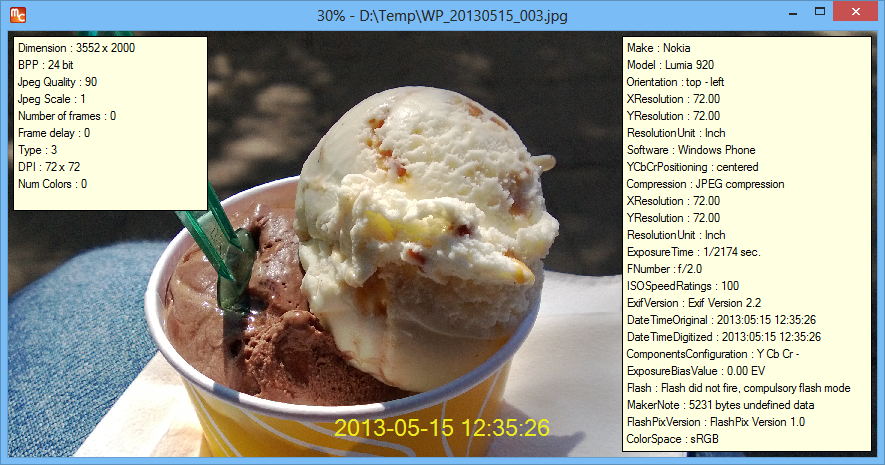 Pressing I will toggle the display of Picture Information (Left)
Pressing E will toggle the display of EXIF information (Right)
Pressing T will toggle the display of timestamp information from the EXIF data (Bottom center)
Pressing P will toggle the display of Photo Information taken from EXIF data (such as Exposure, Bias, F/Num, ISO)
Shortcut Keys
ESC - Close Picture Viewer
Ctrl-R - Rotate 90 degree
Ctrl-F - Flip image Up/Down
Ctrl-M - Mirror image Left/Right
Ctrl-S - Save changes to image
Ctrl-C - Copy image to the clipboard
Ctrl-0 - Auto zoom - Stretch to fit
Ctrl-1 - Zoom to 50%
Ctrl-2 - Zoom to 100%
Ctrl-3 - Zoom to 150%
Ctrl-4 - Zoom to 200%
+ - Zoom In
- - Zoom Out
Ctrl+Shift+R - Resize
Ctrl+Shift+S - Save As...
Ctrl+Shift+G - Make Greyscale
Ctrl+Shift+I - Invert colors
Arrow Keys - Move zoomed in image inside the window
I - Show Picture Information
E - Show Exif Information
T - Show Timestamp
P - Show Photo Information